Marketing revolves around new clients, more sales and boosting your brands' awareness. However, it can be tricky when it comes to optical marketing. Why? Time changes, people develop new tastes and different reasons why they wear glasses.
The number of eyewear lovers is rapidly increasing, the same as the competition in the optical industry. If you look at the strategies used 10 years ago, the same technique can barely get you a single patient nowadays. There is vast competition these days. So, you have to adjust to the new system;
how you approach and treat your patients,
the quality of your product,
how good and reliable your services are,
And most importantly, how you market your business and reach out to more people.

Are you worried about your optical marketing?
Don't, because Raven and Macaw has got you covered. With our advanced optical marketing strategies, we've managed to leave a smile on all our clients faces:
More bookings,
increased brand awareness,
more sales,
unexpected special individual visits, to mention a few; this is what we do and specialize in.
Read on to explore the top-notch strategies that will boost your optical marketing in no time and never disappoint. But, wait! Cristiano Ronaldo love glasses; who knows, he might end up stopping by your store to check out some cool looking eyewear.
Branding (This isn't just your logo! it is everything your business is about)
Branding should be the first strategy you should consider when it comes to any aspect of marketing. Your patients/clients must not be confused or unclear about any of your products. Therefore, your logo must be unique; use a colour scheme and some catchy slogan that can stick in an individual's mind. Thus, with a slight look, your clients should be able to say, "This is your product".
Similar brand messaging should be shared on your social media handles, website, and business app. Similarly, this should be the same on your print marketing materials. Subtle branding across all your digital channels and offline marketing materials can help improve the communication of your optical business online, as well as your visibility.
Render a Variety of Frames, Lenses And Colours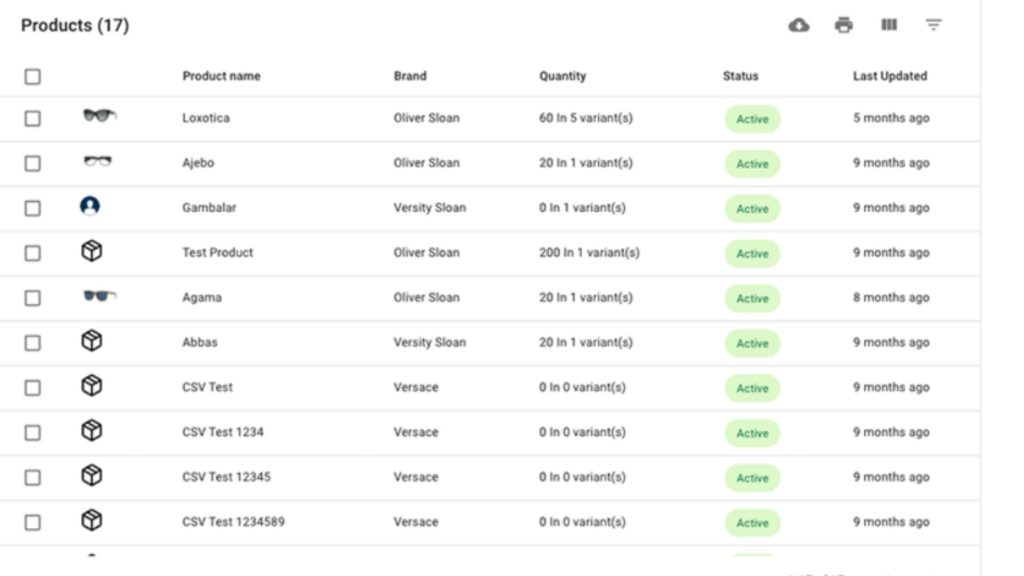 Consider the different face shapes and skin tones we have; for both kids and grown-ups. So, stock frames that fit well and for different occasions with unique colours, different sizes and different price ranges. Your frames should not be designers only, nor should they be basic ones. A mixture of both would be better.
Some people wear glasses for fashion, some for sport, while others wear them to better their vision. Suppose you stack up your store with additional lenses and various tints for almost everyone. In that case, you are bound to see almost everyone. So provide anti-blue light lenses, bifocal lenses, antiglare, lightweight lenses and more.
Someone might escort a friend or a relative to buy a pair of glasses, but seeing the style that fits him/her might make him a bonus customer.
Stocking various styles, frames, lenses and price range is like sending a welcome note to every eyewear lover. Thus, sending more money to your bank account and boosting your business potential at once.
Market and Sell your Eyewear Online
In the world we live today, marketing your product on your website and social media platforms is among the most powerful and prosperous strategies for almost every business. You can display a limitless amount of your products and services on your website and social media platforms.
People search for services and buy products on social media platforms nowadays. It is easier, faster and even cost-effective to some point. Consider having a website, an Instagram, Twitter and Facebook account for a start. If you're not up for any, you may be missing more than 60% of clients.
With good services and quality products, our team @Raven and Macaw
were able to apply some fine touches to one of our clients (Sloane & Co Eyewear), keeping their market alive and consistent online and across all social media platforms. Did I mention that Ralph Rangnick recently visited one of Sloane & Co's stores? Yeah! The Manchester United head coach recently got himself a new pair of Sloane and Co frame for the first time. That is one of the experiences you'll get by marketing your optical business online. You have no idea who goes to your website or social media platforms, and sometimes, you will be surprised to see who comes knocking.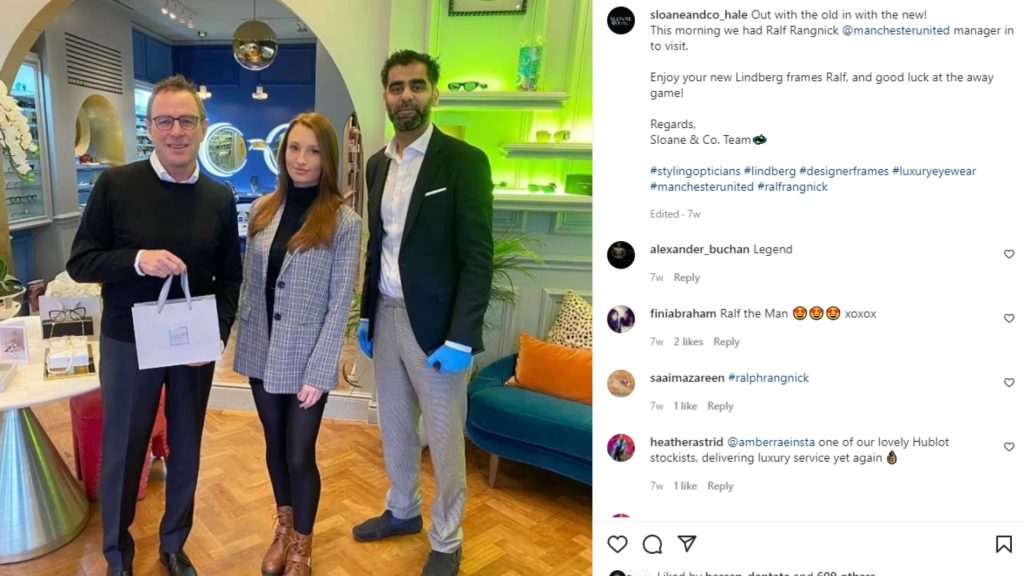 Maximize Promotion Using Paid Ads
Creating all the above mentioned social media accounts is free and an excellent medium to increase your visibility and sales. But, you can also boost them through paid advertisements. For example, you can run a pay per click (PPC) ad to facilitate visits to your optical website. In addition, targeted ads are used to reach a target amount of people on social media.
These methods will boost your visibility. Your business will begin to display in the eyes of more people and on various search engines based on the search query of individuals.
It can be a little tricky to know and select your target audience. But not to worry, our team, @Raven & Macaw, specialize in all types of paid ads for your business. More clicks to your website and reaching out to more clients on social media is more like our thing here. Bill Gates wears glasses; who knows; maybe someday he will come knocking by your gate. Let us know when you're up for it.
Communication is Key
Knowing how to interact with your patients is essential. Because building a positive relationship with your current clients is another huge way to dominate this industry. For example, if a patient enjoys your products and how you treat them, he would recommend you to his friends and family.
That right there is something you can't ever do by yourself.
Also, it'll be a friendly practice to reward any client/patient that refers you to a couple of their friends or relatives. This can help build a stronger relationship and give your patients more thirst for sending people your way. Furthermore, make some questionnaires available for new clients. These questionnaires will help you improve your optical business and keep track of good work.
Getting involved with the community is a great way to communicate and build customer relationships. For example, you can sponsor/host local sports or events to educate children or even society. Also, you can reach out to retirement homes and educate them about age-related eye problems. Another way can be through engaging in charity events. There are a lot of cost-effective mediums around a society that can help create a positive relationship and boost your brand awareness.
Your marketing strategies shouldn't cost you tons of cash. All of the above techniques are cost-effective and not stressful to implement. Moreover, you need to know the tactics in optical marketing. For example, every customer/patient wants to be treated in a special friendly way. So, learn how to welcome every patient with a friendly attitude. This will boost your market and keep you on top of your game.