Find out why social media marketing is such an important part of the digital marketing puzzle.
If you haven't heard already, marketing your business on social media is essential. According to a report by Social Media Examiner a huge 92% of marketers said social media was important to their business.
Still wondering why it's for you? Here are 8 reasons why social media marketing benefits your business.
There is an audience out there for you.
The benefit of using social media to market your business is that no matter how specific your business is there is an audience for you on social media.
Facebook, Twitter, Google Plus, LinkedIn, Instagram, YouTube are the big names in social.
With hundreds of millions of users (in fact Facebook has over a billion), there's a gigantic pool of unique users that can be tapped into.
Whether you sell organic pet treats or B2B software, topics about pet care or cloud computing are being discussed – (although perhaps not in the same conversation). Here lies the opportunity to share your valuable information that will help educate and inform these conversations.
Maybe you'll find out that none of these are for you, maybe your audience is hanging out on Reddit, Tumblr, Vimeo or StumbleUpon. The power of social isn't just in the vast number of users on the big platforms, but in the breadth and depth of conversations going on across multiple niche platforms.
No matter how obscure your niche is, there is an audience out there on social media for you.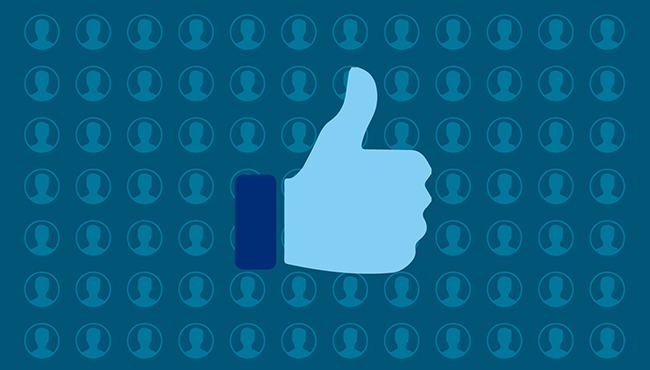 It increases your brand's exposure and authority.
A strong, engaged social presence is important because it makes people aware of you. Not just that you exist, but that you're a functioning, responsive business with something current and interesting going on.
A share or retweet from your followers changes the way the message is delivered. It becomes a recommendation from a friend rather than a message from a business. This amplifies your message exposing you to more people and building up your brand's authority.
It drives more traffic to your site.
Getting people onto your site, and keeping them there is the perpetual struggle of the digital marketer. Social has the benefit of directing people straight to your site. At Wordtracker we write blog posts and academy posts about all aspects of SEO which is then shared across a selection of social sites. All links lead back to our site and each interaction pushes that content in front of more people. Creating more opportunities for people to locate your website.
Many social profiles also have the option to add a link back to your site. Facebook is encouraging this relationship with the implementation of the call-to-action button that links people directly to your app or website.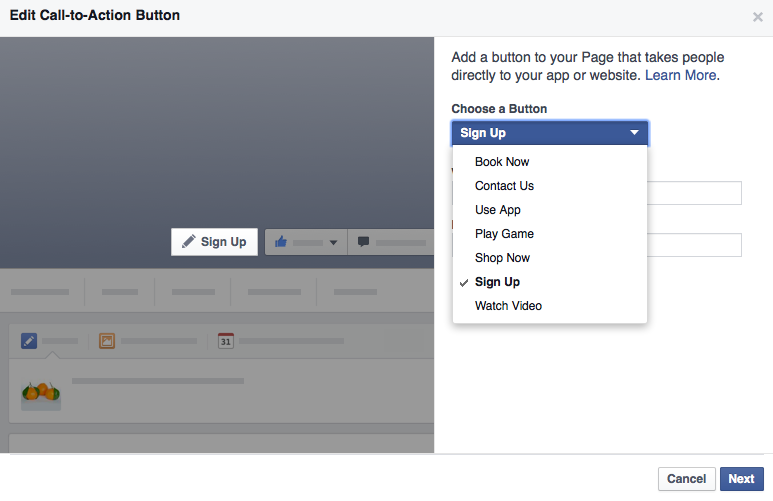 However, social media isn't just a welcome mat to your website. It is its own ecosystem, and that needs to be maintained correctly.
You'll learn more about your audience.
You need to know more about your audience to do well on social. But you'll also learn more about them through social. In addition to the information you get from interacting with your followers, you can also get a great deal of information through your analytics.
Facebook Insights will show you what time your audience is active so you can post when your fans are online. It will also tell you the age, gender and location of people who liked your page.

That's cold hard data right there guys. You'll find out much more about specific individuals you'd gather from looking at your website's analytics.
This sort of information can be fed back into your social and marketing strategy so that you're able to focus your efforts and have more of an impact.
You'll build trust with your audience.
The more obviously invested and passionate you are about the conversations you're engaging with on social the more likely people are to trust you. When is the last time you did business with someone you didn't trust? Right?!
Social media gives you the opportunity to reveal more of the human side of your company. Behind the scenes pictures or interviews will show your followers that you're a company made up of unique individuals. It's a fun way to promote your business without shouting about your products directly.
You'll be there when it's time to buy.
Not all the people who are aware of you will end up buying from you. Each interaction someone has with one of your pages can offshoot into other actions like including a link to your site in their next blog post, recommending you to a friend, commenting and liking your posts which builds your reach. These action will help you get in front of more potential buyers.
Even if you're not directly selling on social you'll be there in your audience's mind when it's time to buy.
It's an avenue for contact and feedback.
The question went around our office, "My sofa hasn't arrived – how do I get their attention?" The answer? "Tweet them!".
Being a business on social opens up avenues for contact and feedback. This is a real opportunity to understand more about how you're perceived, your customers' experiences and to quickly respond to concerns or complaints.
Users of social media are aware that they'll get a speedy response on social; in fact customers expect a reply in 1 hour which is why it's important to monitor your accounts.
Don't hide away from feedback even if it is critical. An unhappy customer is actually a great opportunity. If you can turn that person around they'll be pleasantly surprised and be more inclined to spread the word.
Deal with queries with honesty and a bit of humour and you might find those little customer quibbles become a great story that will shared and featured on other sites – just like Morrisons Supermarket in the UK did recently. They've turned a customer complaint about a wonky loaf of bread into a great PR opportunity.
SEO and the Search engine results page.
It's impossible not to mention search results when talking about the business implications of social media. The truth of the matter is that we're never going to have full visibility of the complex search engines' ranking algorithms. Could we all be trusted if we did? 
Bing's Webmaster guidelines indicates that being influential on social, and having your followers share your content widely would send positive signals that could impact your rankings.
It makes sense that Google would also pay attention to social signals (and this was firmly believed for a while there), we were thrown a curve ball when Matt Cutts indicated it was correlation rather than causation. For example if an article has 10,000 shares and it also reaches top position on the results page, did the shares get it to the top, or is it just a really valuable piece of content that has many other ranking signals assisting it?
Matt Cutts explains this best:
Chloe Mason Grey explores this a bit further in her article 5 things you need to know about social media and SEO.
What all the information seems to point to is not to think of social as a tool to blast your way to the top of the results page. Rather engage with your audience and build strong relationships, make and share great content, listen and respond to trends and feedback. Over time your influence will increase as people find value in what you're offering.
This is what we definitely do know about SERPs and social:
1. G+ posts affect personalized search results.
Even though the Authorship picture no longer shows up for all searches, if you get a +1 on G+ it will show up in search results for their circles, for users who are signed in.
So, when I'm signed into my personal G+ this result showed up from the Wordtracker account, which is in my circle.
2. Tweets now show up in SERPs
In order to return more fresh results Google has partnered up with Twitter.
One of our authors shared our blog post on Twitter which now shows up in the results like this:

3. Social accounts rank in SERPs for branded searches
Your social profiles will also show up in SERPs for searches which helps you dominate the results page for your brand.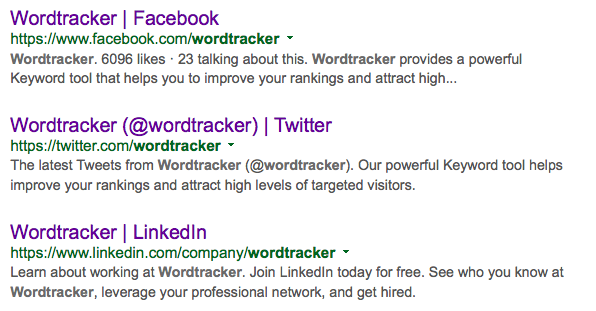 Takeaways
Social media marketing is about sharing and engaging with people. Real live people who are themselves managing their own delicate social media image.
Understanding and delivering the right content, at the right time, on the right platform to these real live people, is what social media is all about.
Get this right and you'll be rewarded with all the benefits social media marketing has to offer.
The more you engage the more you'll learn and grow, so dive in and give it a go!
Source: Wordtracker.com